Product Description
FLEXIBLE CARBON Heat Pads (Warm-a-Pet) 2 sizes

Sorry..... Small and Large flexible mats sold out
........we still have ONE (only) Thermocushion available and Self Warming mats

Large - 400 x 300mm (with Sherpa cover).... SOLD OUT
Ideal for Dog, Cat, Small animals, or Wildlife (7 heat settings)
Made in Australia

Flexible heat pad developed for use in wildlife care and artificial joey pouches

Used in the care of injured and orphaned pouch young

Ideal for domestic dogs, cats and all small animals

Thoroughly tested by an experienced wildlife carer

Extra low voltage (supply authority approved) power pack means safe comfort for all animals

Plugs into household power point

Sherpa slip-cover (included) keeps the heat pad clean and easily removed for laundering

Seven

heat setting selection switch on the power supply allows you to choose the ideal warmth for each animal

Actual temperatures will depend on ambient temperature, bedding used, size of animal

Can be converted for use in the car with in-car adaptor (optional extra)

Extreemly low running costs - just cents per day, even if left on 24/7

Two years Manufacturers' Warranty. (Does not cover damage by chewing, moisture, accidental or wilful damage etc.)


OPTIONAL EXTRAS:
- (A) In-Car Adaptor (Suitable for Deluxe & Flexible mats ONLY)
- (B) Additional Slip Covers - Small, Large
- (C) Cord Protector - 7mm x 2 metre split tubing (NB: Cord protector is NOT chew PROOF! It is an added deterrent for dogs who tend to chew things!)
ALSO AVAILABLE - particularly suited for wildlife and breeders
- (D) Heartbeat Simulator (click link)
- (E) Thermometer - Ambient/Heat Pad thermometer (Special orders)
- (F) Car Lead Heat Controller (Special orders)
- (G) Precision Temperature Controller (Special orders)
OPTIONAL EXTRA - other products available by special order for wildlife carers or special needs (POA)
Details available upon request (not yet uploaded to website)


(E) Ambient Temp Thermometer (F InCar Heat Controller (car only) (G) Precision Temperature Controller (car&house)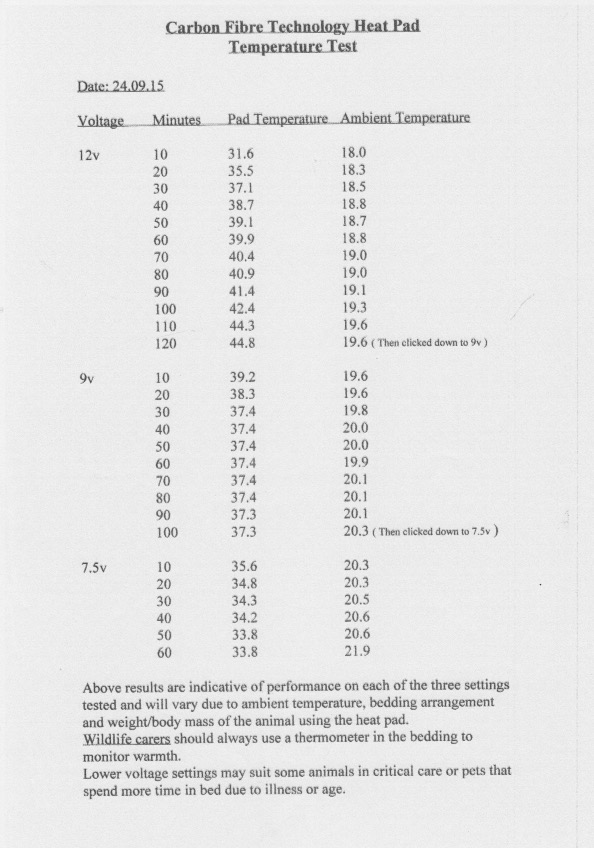 Warranty Information
2 years - Please retain your invoice.
Product Reviews
Dog loves it!

Posted by Lesley Hawson BSc. BVSc. PhD. Associate Australian Equine Behaviour Centre on 29th Jun 2016


I bought this product for my older lab X who is suffering some arthritic pain now. The heat pad has been running non stop for the last two weeks. I love that I can put it under his usual bed and not worry about it over heating. The dog loves it too... although he has to wait for the terriers get off it. Great product. Dr. Lesley Hawson BSc. BVSc. Phd.
Customers also viewed